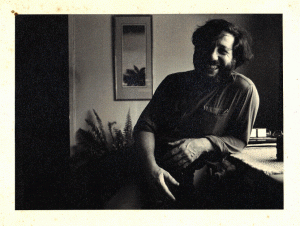 Serigraphy is a printing process that forces ink through a fine mesh screen or stencil to produce gallery-quality art. Multiple layers of ink are manually pressed or "squeegeed" through the stencil creating an image on a screen of silk or another fine fabric with an impermeable substance. The more colors involved, the more complicated the process.  The result is a brilliantly hued work of art that retains its beauty for a lifetime. (Think "Andy Warhol")
Serigraph Artist, Herbert Phillip Sussman, also known as Sako, was a friend of the Appalachian Catholic Worker and an alumni of the Newark School of Art in New Jersey, class of 1951.  Although originally from the city, Sako found his niche in the woods of Roane County, West Virginia where he lived a solitary life close to the land from 1981 until his death in 2012 at the age of 77.
At his passing, the Sussman family donated proceeds from his artwork to Appalachian Catholic Worker, and his 65 acres to the West Virginia Regional Land Trust, which provides land for the landless, protects it from speculation and promotes the ecological use of it for the common good.
Sako serigraphs vary in size and shape.  Each print is signed by the artist with a serial number and no others will be produced.
However, you can purchase any of Sako's original, colorful prints  here online, any time, as long as they last, for a set price of $25 each + shipping. Or, choose five prints to make a set of note cards with envelopes for $5 / pack +shipping.

To place an order, email jeannie@acwfarm.com and include:

the title/s you want,
print or pack of 5 note cards,
quantity of each,
and your postal mailing address.
Someone will contact you with total cost and payment options (via check or PayPal).
---
The following images were taken using a generic camera with no tripod, inadequate lighting, with 'artist proofs' hung loosely from a paperclip (hence the parallax and curvature).  At some point (when I have time) I'll round up a tripod and light (maybe even borrow a better camera), and replace these with better quality images of each piece. Click any thumbnail below to access higher resolution images.  ACW also has a gallery of Sako's work scanned from a sheet of thumbnail photos that are lower resolution but which better illustrate the brilliance of the hues than the photos below.  The ACW gallery also includes several pieces not yet included in this gallery.

Click any image to view at full size